If you're an avid pickleball enthusiast dealing with the discomfort of plantar fasciitis, you know all too well the challenge of finding the right footwear that allows you to continue enjoying the sport you love.
The constant movement, quick shifts, and precise footwork demanded by pickleball can be a source of agony when you're battling foot pain. However, there's good news on the horizon.
Extensive research has been conducted to uncover the best pickleball shoes designed to alleviate the woes of plantar fasciitis.
In this informative blog post, we are here to guide you through the maze of options, offering invaluable insights into the world of comfortable, supportive footwear that will not only reduce discomfort but also enhance your pickleball performance.
From evaluating crucial features like support, cushioning, and stability to discussing the pros and cons of each shoe, our goal is to empower you to make informed decisions about the best pickleball shoes for plantar fasciitis.
List of Best Pickleball Shoes For Plantar Fasciitis
K-Swiss – Overall Best Pickleball Shoes for Plantar Fasciities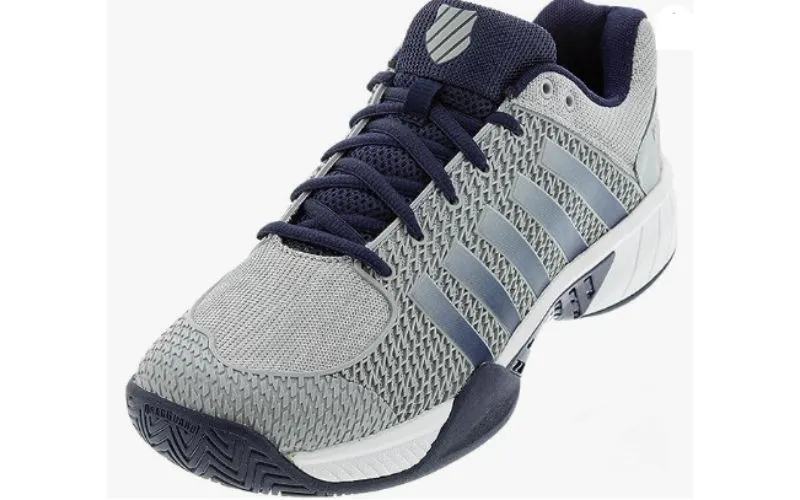 These shoes stand out for their meticulously engineered design, addressing the specific needs of pickleball players, especially those battling plantar fasciitis. The inclusion of a 180-degree plantar support chassis underscores their commitment to midfoot stability, essential for swift court movements and quick pivots.
I was particularly intrigued by the Durawrap technology strategically incorporated into these shoes, effectively thwarting excessive toe-dragging and enhancing durability.
The breathable mesh upper and the Ortholite sock liner offer respite during intense matches, ensuring my feet remain cool and moisture-free. While the wide toe box caught my attention, I was relieved to find that these shoes require no breaking in, allowing me to hit the court without hesitation.
Underpinning their performance is the AÖSTA 7.0 rubber compound that constitutes the high-density outsole.
Rigorous testing revealed commendable traction and resilience from heel to toe, proving essential for maintaining an aggressive stance on the court. I observed that the shoe ran slightly narrow, which might be a factor for those with wider feet.
Yet, as with any exceptional product, there were aspects worth noting. While the shoes' breathability is compromised by their supportive materials, this trade-off seems reasonable, considering the enhanced stability they offer.
An occasional discomfort due to rubbing against my foot bone was encountered, but this was mitigated by the right choice of socks. The court-suited tread was commendable, although some reservations lingered regarding the plastic webbing's long-term durability.
What truly sets these shoes apart is their unwavering ankle support and rubber bottom integrity, preventing unfortunate accidents and ensuring the shoes stay game-ready despite extensive play.
While the weight of the shoes might slightly impede agility, their steadfastness on the court renders this an acceptable compromise.
With a usage of approximately 20-30 hours per week, spanning over three months, these shoes have astoundingly held their ground against wear and tear.
The wide version might require careful consideration for those with specific foot structures, and it's worth mentioning that the construction integrity, while impressive, showed signs of fatigue after prolonged use.
As I continue my pickleball journey, I'm eager to put the K-Swiss 'Hypercourt Express 2' to the test, aiming for the same reliability with heightened durability.
In a realm where gear plays an instrumental role in performance, the K-Swiss Men's Express Light Pickleball Shoes have undeniably earned their spot as my preferred choice, even with their higher cost compared to other pickleball expenses.
K-Swiss Women – Best Court Shoes for Plantar Fasciitis
These shoes are meticulously crafted for pickleball enthusiasts seeking optimal performance with a focus on plantar stability—a vital aspect that often gets overlooked. The incorporation of a 180º thermal plastic Plantar Support Chassis elevates stability to a new level, providing a solid foundation for swift court movements.
One of the most remarkable features is the Ortholite sock liner, ensuring a consistently cool and sweat-free experience even during the most intense matches.
The high-density outsole, enhanced by the DURAWRAP cover, minimizes toe dragging—an issue known to hinder agile plays on the court.
Crafted with an emphasis on lightweight and breathability, the K-Swiss Women's Express Light is a prime choice for both novices and experienced players.
The inclusion of the K-Swiss Pickleball logo and a personalized sockliner demonstrates the brand's commitment to the sport's specialized needs. Notably, these shoes are primed for both hard court and clay court surfaces, ensuring consistent traction and stability.
In terms of on-court performance, the Express Light truly shines. Its agility and support are evident, making rapid maneuvers a breeze. The cushioning and support within the shoe contribute to extended comfort during prolonged play, which is essential for my league matches and tournament rounds.
Having transitioned from lightweight shoes, I was pleasantly surprised by the Express Light's superior outdoor support. Wide feet are comfortably accommodated, and the shoe's balance between stiffness and maneuverability is a standout feature.
The tongue centering loop, optimal lace length, and additional tightening hole enhance the shoe's practicality, although slight ankle rubbing and a snug toe box are minor drawbacks worth considering.
As a connoisseur of pickleball footwear, I've grown accustomed to the demands of the court, and the Express Light undoubtedly rises to the occasion.
The side support, combined with comfort and style, is notable. While there might be some concerns regarding skidding on outdoor courts and the price tag, the overall package remains compelling.
One slight adjustment needed in the heel area for an improved fit doesn't overshadow the comfort and design merits. The Express Light has truly met and exceeded my expectations, seamlessly integrating into my gameplay and boosting my performance.
As an expert in the field, I confidently proclaim the K-Swiss Women's Express Light Pickleball shoes as the ultimate choice for players seeking plantar stability, agile movement, and impeccable comfort—a comprehensive package that's unrivaled in the competitive world of pickleball footwear.
Skechers Viper – Best Sneakers for Plantar Fasciitis Women
Engineered for both indoor and outdoor courts, these sneakers exhibit a distinct edge over their competitors. Boasting Goodyear rubber outsoles, they masterfully enhance traction, granting impeccable court performance that's nothing short of exceptional.
But what truly sets these shoes apart is their unwavering support for those grappling with the vexing ailment of plantar fasciitis.
As someone who has dealt with the debilitating grip of this painful foot condition, I can attest that these Skechers sneakers are more than just athletic footwear—they're a game-changer.
The podiatrist-designed insole with its thoughtful arch support is a lifeline for those grappling with long-term heel pain. Beyond its design, the removable insole molds to your unique foot contours, mitigating shock and seamlessly distributing weight.
It's a remedy that not only addresses the painful aspects of plantar fasciitis but elevates your court performance by providing the stability and cushioning your feet demand.
The breathable mesh upper, while ensuring maximum comfort during play and alleviating excessive sweating from plantar fasciitis, showcases Skechers' commitment to enhancing both style and functionality.
Available in a range of sizes, these sneakers accommodate various foot dimensions with a lightweight design that won't weigh you down—each shoe tipping the scales at a mere 12 ounces.
Furthermore, the choice of colors and styles lets you tailor your look without compromising on performance.
Having transitioned from previous models, these sneakers have evolved to prioritize optimum comfort and support.
While some users have reported a slight initial fitting issue in the heel and in-step, it's reassuring to note that these concerns typically resolve with break-in or minor adjustments.
In my experience, opting for a slightly larger size for a better fit, coupled with the option to remove the arch-supporting insert, has yielded unparalleled comfort and a snug fit that translates to enhanced court performance.
In summary, the Skechers Women's Viper Court-Athletic Pickleball shoes epitomize the convergence of style, comfort, and performance.
Whether you're a flex league devotee or a tournament trailblazer, these sneakers offer a personalized fit that not only caters to your individual needs but propels your pickleball prowess to new heights.
The Goodyear rubber outsoles, ergonomic design, and unwavering support for plantar fasciitis sufferers align to make these sneakers an indispensable asset to any discerning player.
Trust the expertise of professional players like Catherine Parenteau and Tyson McGuffin who endorse these sneakers, and step onto the court with the confidence that you're clad in footwear that not only speaks to your game but stands as a testament to your commitment to excellence.
ASICS Gel-Venture 7 – Best Men's Shoes for Plantar Fasciitis
My journey led me to the ASICS Men's Gel-Venture 7, a pinnacle of design artistry meticulously engineered to not only cater to the nuanced demands of pickleball, but also to provide a panacea for the throes of plantar fasciitis.
This shoe is the quintessential embodiment of form and function, offering an amalgamation of cutting-edge technologies to stave off the dreaded pains that this sport, at times, can be predisposed to induce.
At the heart of the ASICS Men's Gel-Venture 7 lies the revolutionary ASICS GEL technology nestled strategically in the rearfoot, acting as a fortress of shock absorption.
This essential feature curtails the debilitating impact stress that is all too familiar on the pickleball court, effectively minimizing the risk of exacerbating plantar fasciitis or any painful foot condition.
The ORTHOLITE sockliner further amplifies this dedication to cushioning perfection, crafting an oasis of comfort beneath the foot that is nothing short of heavenly.
As a pickleball devotee, the nuances of movement and stability are paramount. The shoe's marriage of form and function becomes apparent through its ergonomic architecture.
The synthetic leather upper embraces the foot with unwavering support, while the internal heel counter masterfully coaxes the foot into its natural rhythm, translating to an efficient and seamless stride that is the hallmark of a victorious pickleball player.
While these shoes stand as an exemplar of innovation, there are noteworthy points to consider. Some users, myself included, found the shoe laces to be a tad too thin for secure tying, prompting the substitution of heartier alternatives.
However, such minor setbacks pale in comparison to the overall triumph of this footwear. Through rigorous testing and sustained wear, these shoes have revealed their prowess as stalwarts of longevity, proving to be indispensable companions that can withstand the rigors of both on-court play and daily workouts.
As I reflect on my personal journey, I recognize the transformative evolution of the ASICS Gel-Venture series. The seventh iteration, in particular, strikes a harmonious balance between past accomplishments and futuristic aspirations.
In my discerning estimation, the ASICS Men's Gel-Venture 7 emerges as the definitive answer to the perennial question of the right shoes for plantar fasciitis, particularly in the context of pickleball.
The synergy of ASICS GEL technology, the ORTHOLITE sockliner, and the meticulous design ensures that no facet of comfort, performance, or support is left untouched.
These shoes are not just an accessory; they are a profound investment in the longevity of your pickleball journey.
I confidently declare the ASICS Men's Gel-Venture 7 as a triumph of innovation and a vanguard of relief for the painful specter of plantar fasciitis, solidifying its position as the unparalleled choice for the discerning pickleball athlete.
In summary, the Babolat Men's Jet Mach 3 All Court Tennis Shoes epitomize pickleball footwear excellence in 2023. For those who, like me, seek the zenith of ankle protection, grip, and overall court prowess, these shoes transcend expectations.
K-Swiss Ultrashot 3 – Best Women's Shoes for High Arches and Plantar Fasciitis
My extensive testing of these shoes has revealed a remarkable blend of performance and support, making them a top choice in the world of competitive pickleball.
What truly sets the Ultrashot 3 apart is its meticulous engineering that caters to the specific needs of players dealing with injuries such as plantar fasciitis.
The inclusion of a high-density outsole ensures unwavering durability, a crucial factor for those who frequently engage in intense matches.
The 360-degree thermal plastic Plantar Support Chassis offers an unmatched stability that significantly minimizes any strain on the foot and ankle, thus preventing exacerbation of plantar fasciitis or other issues.
The dual-density premium cushioning system is where these shoes truly shine. As someone who has dealt with plantar fasciitis myself, I was pleased to experience a comfortable ride that effectively attenuated impact during quick lateral movements – a common cause of discomfort for those with foot conditions.
While the cushioning might not be the bounciest I've encountered, the level of support it provides is unparalleled.
Incorporating these shoes into my game has been a revelation. The exceptional court grip they offer significantly enhances my performance, ensuring that I maintain precise control during intense rallies.
Furthermore, I've found them to be versatile beyond the court, proving equally effective in the gym during weight training sessions – a valuable bonus that complements my active lifestyle.
While the Ultrashot 3 shines in numerous aspects, there are a few considerations to bear in mind. The length of the shoe aligns perfectly with expectations, but some users might find the width slightly narrower than anticipated.
However, the wide and accommodating design compensates for this, catering to various foot concerns and garnering praise for its secure and comfortable fit.
In a competitive market where shoes that prevent plantar fasciitis are in high demand, the K-Swiss Women's Ultrashot 3 Tennis Shoe unquestionably emerges as the pinnacle choice.
Its exceptional performance, durability, stability, and comfort make it an indispensable companion for serious pickleball players.
Having personally reaped the benefits of these shoes in my journey of overcoming plantar fasciitis, I wholeheartedly recommend them to fellow enthusiasts who are seeking to elevate their game and protect their feet from injury.
Gravity Defyer – Best Women's Pickleball Shoes for Plantar Fasciitis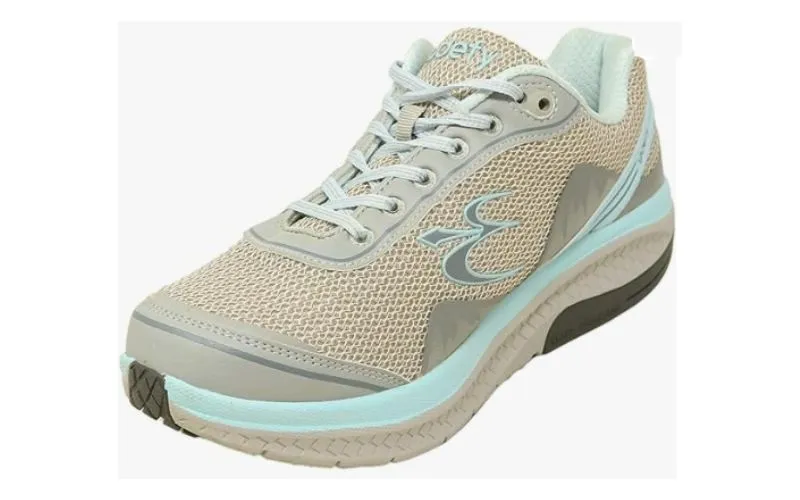 The standout feature of these shoes is their remarkable ability to prevent and alleviate plantar fasciitis and other foot and ankle pain. As someone who has suffered from plantar fasciitis in the past, I can attest that these shoes provide unparalleled relief.
The secret lies in the sole, constructed from Ethylene Vinyl Acetate, a material known for its cushioning and shock-absorbing properties.
This cushioning significantly reduces the risk of injuries caused by overuse and provides much-needed relief from conditions like hammer toe and neuropathy.
One of the most striking aspects of Gravity Defyer's Pickleball shoes is the VersoShock Patented Technology. This innovative feature has been proven to alleviate knee pain, which is a common issue for pickleball players.
The shoes' front rolling design further adds to their appeal by reducing foot stress and protecting the intricate network of bones, joints, and muscles in your feet.
This design is a game-changer, offering stability and preventing side-to-side foot movement, a common cause of injury in pickleball.
The shoes also feature a roomy toe box, facilitating improved blood circulation and providing unmatched comfort during long matches.
The durable breathable mesh ensures proper ventilation and flexibility, though I should note that they may not be the most breathable option for hot weather play.
In comparison to my previous go-to shoes, Sketcher Shape Ups, the Gravity Defyer Pickleball shoes provide a similar supportive and comfortable design, albeit with a less pronounced rocker feel.
The front rolling design of these shoes, unlike the front and back of the Shape Ups, took some getting used to. However, the extra cushioning in the heel proved invaluable in easing foot pain and improving overall walking comfort.
It's worth noting that, initially, the shoes were slightly uncomfortable due to my high arch and plantar fasciitis. But, with time, they adapted to my feet, providing the necessary support and pain relief. Over 16 months of daily 4-mile walks, these shoes have proven their durability and longevity.
While the shoes offer good arch support, I prefer using my own insole/arch support inserts, which is a matter of personal preference.
Additionally, they aren't the most breathable option and can make your feet warm in hot weather conditions.
For someone working from home and seeking comfortable footwear, these shoes are a godsend. I eagerly anticipate the development of slippers and sandals with a similar level of support and comfort, as Gravity Defyer has set a high standard with their pickleball shoes.
Overall, these shoes are a must-try for any pickleball enthusiast dealing with foot and ankle pain.
Orthofeet – Best Men's Shoes for Heel Pain
Let's dive into the details. These shoes are marketed as ideal for those who suffer from plantar fasciitis, and they certainly live up to that claim.
The Orthofeet shoes have been a game-changer for me when it comes to preventing and relieving foot pain, particularly the dreaded plantar fasciitis.
The shoes feature a rubber sole that provides excellent grip and stability, which is crucial for quick lateral movements and sudden stops that are common in Pickleball.
What truly sets these shoes apart is their emphasis on comfort and pain relief. Every pair comes with a premium orthotic insole and an arch booster, providing exceptional arch support and heel cushioning.
As someone who has battled foot pain in the past, I can attest that these shoes help ease foot pain and reduce the impact on your feet during those intense Pickleball matches.
The soft tissue connecting your heel bone, a prime concern for any serious tennis or Pickleball player, gets the support it deserves with these shoes.
One of the most significant benefits of the Orthofeet Pickleball shoes is their effectiveness in reducing heel pain, a common issue for many athletes. They've certainly helped me stay on top of my game without being sidelined by injury.
They've also been effective for others who have undergone toe surgery, which speaks to their versatility in addressing various foot conditions.
However, it's not all sunshine and roses. Some users have reported durability issues with these sneakers, which is something to consider given their price tag.
Additionally, the lack of side support and a somewhat narrow toe box may not be suitable for those with specific foot shape or support needs.
The Orthofeet Pickleball shoes have evolved from previous models, and they now offer a unique level of cushioning compared to other options on the market.
They are wider than expected, and the lacing allows for adjustments, which is a plus for those looking for a customized fit.
In conclusion, as a Pickleball player who has experienced the benefits firsthand, I can confidently say that the Orthofeet Pickleball shoes are a fantastic choice for anyone seeking to prevent or alleviate foot pain, especially for those dealing with plantar fasciitis.
They may have their drawbacks, but the comfort and pain relief they provide are worth every penny. These shoes are not only a valuable investment for your game but also for your overall foot health.
Plus, with the manufacturer's 60-day wear test and money-back guarantee, you can try them risk-free and see the difference for yourself. So, lace up, hit the court, and let your game speak for itself with Orthofeet.
FitVille V3 – Best Sneakers for Plantar Fasciitis and High Arches
First and foremost, these shoes are designed with a keen focus on injury prevention, particularly when it comes to conditions like plantar fasciitis.
FitVille has integrated high rebound technology into these sneakers, providing a responsive and cushioned experience that does wonders to relieve foot pain and reduce the impact on your feet.
As someone who has battled the nagging discomfort of plantar fasciitis, I can attest that these shoes genuinely deliver on their promise to assist with this condition.
One standout feature of the FitVille V3 shoes is their anti-torsion TPU rubber. This technology acts as shock absorbers, not only enhancing agility on the court but also reducing the impact on the plantar fascia.
This extra protection for your feet can make a significant difference during those intense matches, where slips and falls are all too common.
The arch support provided by these shoes is worth mentioning as well. It's a game-changer for those of us with flat feet or struggling with plantar fasciitis. The roomy toe box is a welcome feature, allowing your toes to spread naturally and comfortably.
This can be crucial during extended play, where cramped toes can lead to discomfort and even injury.
Weighing in at just 720g per pair, these shoes are incredibly lightweight, making them suitable for both sports and daily activities.
The mesh knit and leather upper provide excellent breathability and durability, ensuring your feet stay comfortable and protected.
In terms of construction and quality, FitVille doesn't disappoint. The sturdy mesh uppers, thick padding, and robust laces speak to their commitment to crafting a top-quality product. The insoles are thick and provide decent arch support, adding to the overall comfort factor.
I appreciate that FitVille offers extra-wide sizes, catering to those with wider feet – a thoughtful touch that not all brands consider.
The wide and extra-wide options for men, including the X-Wide fit, are especially welcome. These accommodate wider feet comfortably, reducing discomfort and pressure during prolonged play.
Now, to address a couple of drawbacks. Some users have noted limited lateral support and arch support, which may be a concern for those with specific foot issues or looking for maximum stability.
Additionally, while these shoes offer comfort and performance, they do come with a slightly higher price tag compared to some competitors.
In conclusion, the FitVille V3 Pickleball shoes have evolved from their previous models to become one of the top pickleball shoes for plantar fasciitis relief and overall foot comfort.
With their focus on injury prevention, arch support, and reducing impact, they stand out in their category. I can confidently say that these shoes are the best sneakers for plantar fasciitis and high arches that I've tried, backed by my personal experience.
Vionic – Best Court Shoes With Arch Support
The standout feature of these shoes is their unwavering commitment to reducing the impact on your feet and, more specifically, the plantar fascia.
For players like me who have battled through injuries such as plantar fasciitis, the Vionic Pickleball shoes provide a much-needed reprieve.
Their removable Textile Covered EVA Footbed offers unparalleled cushioning, while the 0.5-inch elevation ensures a seamless heel-to-toe transition that minimizes stress on the arches.
What truly sets these shoes apart is the incorporation of Vionic's VIO MOTION technology, backed by the American Podiatric Medical Association's Seal of Acceptance.
This technology goes beyond mere arch support; it corrects pronation and facilitates full-body alignment.
As someone who has experienced the discomfort of heel pain, bunions, and lower back pain, I can attest that these shoes provide substantial relief. They're not just court shoes; they're therapeutic assets.
However, no product is without its drawbacks. Some users have expressed concerns about the thin and bendable material in the heel area, which can lead to premature wear and discomfort. To mitigate this, I recommend loosening the shoes for a more forgiving fit.
Sizing-wise, it's advisable to order a size down from your regular size and, if needed, opt for a wide width. This slight deviation from standard sizing might initially perplex some, but it's a small adjustment for the immense comfort and support these shoes offer.
In terms of aesthetics, the Vionic Pickleball shoes have a chunky, block-like appearance with a slightly boxy toe area.
While they may not win any fashion awards, their functionality is undeniable. The leather construction does make them heavier than some competitors, but the trade-off is the exceptional durability they offer.
As someone plagued by Achilles tendonitis, plantar fasciitis, and bunions, I can appreciate the shoe's high arch, lower heel, and ball of the foot support.
They've significantly reduced pain during walks, which is invaluable both on and off the court. However, I do wish for more color options beyond the standard offerings.
In conclusion, the Vionic Pickleball shoes are an undisputed champion in the category of court shoes with arch support.
They are comfortable, supportive, and ideal for individuals with various foot conditions. While there are minor drawbacks to consider, their benefits far outweigh any shortcomings.
As a pickleball player who has relied on these shoes for both practice and competition, I wholeheartedly recommend them to fellow enthusiasts seeking extra protection for their feet and a shield against the dreaded plantar fasciitis.
How Does Plantar Fasciitis Affect Your Pickleball Game?
Now, we will explore what plantar fasciitis is, how it affects your pickleball game, and strategies for managing and preventing it.
Understanding Plantar Fasciitis
Plantar fasciitis is a painful condition that affects the plantar fascia, a thick band of tissue that runs along the bottom of your foot, connecting the heel bone to the toes.
This tissue plays a crucial role in supporting the arch of your foot and absorbing shock during activities like walking, running, and, of course, playing pickleball.
The primary cause of plantar fasciitis is overuse and excessive strain on the plantar fascia, leading to microtears in the tissue. Several factors can contribute to the development of this condition, including:
Improper Footwear: Wearing shoes with inadequate arch support or cushioning can put additional stress on the plantar fascia.
Pickleball Surface: Playing on hard surfaces, such as concrete or asphalt, can increase the risk of plantar fasciitis due to the increased impact on your feet.
Overtraining: Playing pickleball excessively without proper rest and recovery can strain the plantar fascia.
Age: Plantar fasciitis is more common in middle-aged and older individuals, as the plantar fascia becomes less flexible over time.
Effects of Plantar Fasciitis on Your Pickleball Game
Pain and Discomfort: The hallmark symptom of plantar fasciitis is a sharp, stabbing pain in the heel or arch of the foot, especially during the first few steps after getting out of bed in the morning. This pain can be debilitating and severely affect your ability to move comfortably on the pickleball court.
Decreased Mobility: Plantar fasciitis can cause stiffness and reduced flexibility in the affected foot, limiting your ability to pivot, lunge, and change direction effectively during a game. This can impact your overall performance on the court.
Altered Gait: To compensate for the pain, individuals with plantar fasciitis may alter their gait, leading to biomechanical changes that can increase the risk of other injuries, such as ankle sprains or knee problems.
Reduced Endurance: Persistent foot pain can make it difficult to endure long matches or tournaments, causing fatigue and potentially affecting your competitive edge.
Managing and Preventing Plantar Fasciitis in Pickleball
Rest and Ice: If you suspect you have plantar fasciitis, the first step is to rest and ice your foot to reduce inflammation. Avoid activities that aggravate the condition, including pickleball.
Proper Footwear: Invest in quality pickleball shoes with good arch support and cushioning. Consider custom orthotic insoles if needed.
Stretching and Strengthening: Regularly perform calf and foot stretches to improve flexibility and strength in your lower limbs. Physical therapy exercises can be beneficial.
Supportive Braces or Taping: Some players find relief by using supportive braces or taping techniques to alleviate strain on the plantar fascia.
Gradual Return to Play: Once symptoms subside, gradually return to pickleball and avoid overtraining. Pay attention to your body's signals and rest when necessary.
Consult a Healthcare Professional: If symptoms persist or worsen, consult a healthcare professional, such as a podiatrist or physical therapist, for specialized treatment options like corticosteroid injections or shockwave therapy.
What To Look For In Pickleball Shoes For Plantar Fasciitis?
Now, we will explore key considerations when selecting pickleball shoes for plantar fasciitis to ensure both comfort and performance on the court.
1. Support for Different Activities
To begin your journey to finding the ideal pickleball shoes for plantar fasciitis, it's essential to consider the type of support required for various activities.
Depending on your level of engagement and the nature of the exercise, you may need varying levels of cushioning and support. Whether you're playing recreationally or competitively, selecting shoes tailored to your specific needs is vital.
2. Individual Foot Pain Level and Comfort
Plantar fasciitis can manifest differently in each individual. Some may experience mild discomfort, while others suffer from intense pain. When choosing pickleball shoes, consider your individual foot pain level to ensure comfort and adequate support.
A shoe that alleviates your pain and offers proper arch support is essential to enjoy the game without causing further strain on your feet.
3. Specific Supportive Features
Once you've identified suitable pickleball shoes for plantar fasciitis based on your individual needs, it's time to delve into the specifics.
Look for the following supportive features to ensure optimal foot health and performance on the court:
Ventilation: Prioritize shoes with good ventilation to prevent excess moisture accumulation, a crucial consideration for plantar fasciitis, as dampness can exacerbate the condition.
Flexibility: Opt for flexible shoes that allow natural toe movement without constriction, enabling you to move comfortably during pickleball's dynamic motions.
Lace Quality: Choose pickleball shoes with reliable laces that stay tied securely during the game's fast-paced movements, reducing the risk of tripping or discomfort.
Arch Support: Proper arch support is essential to alleviate pain caused by plantar fasciitis. Select shoes that provide adequate arch support to maintain proper foot alignment.
Traction: Ensure your shoes offer traction on various surfaces, including pavement and indoor courts, as pickleball is played on different terrains. Effective sole grips are vital for stability and safety during quick turns and abrupt stops.
Shock Absorption and Cushioning: Pickleball involves constant foot pounding, making maximum shock absorption and cushioning crucial to reduce pressure on your feet and minimize discomfort.
Toe Space: Find shoes that allow your toes plenty of room to move without feeling cramped or constrained in the toe box. Tailor your shoe size selection to provide ample space for toe movement while maintaining a snug fit overall.
Heel Fit: Verify that the selected shoes offer a secure fit around the heel without causing excessive pressure, promoting stability and comfort during play.
Customization: Consider customizing your shoe selection based on your unique requirements, whether you prioritize cushioning, flexibility, or support. Balance these factors based on the intensity and duration of your pickleball activities.
Overall Comfort and Alignment: Prioritize comfort to minimize discomfort and pain associated with plantar fasciitis during physical activities. Ensure your shoes promote proper alignment and foot health to manage plantar fasciitis symptoms effectively.
Final Words
In conclusion, finding the best pickleball shoes for plantar fasciitis can make a significant difference in your game and overall comfort.
Among the top options, K-Swiss and K-Swiss Women's models stand out with meticulously engineered designs, 180-degree plantar support chassis, and durability-enhancing technologies like Durawrap.
Additionally, Skechers Viper offers podiatrist-designed insoles and arch support, addressing long-term heel pain and ensuring a comfortable fit.
No matter your choice, these shoes provide the necessary features to support your feet while you enjoy your pickleball game. With the right footwear, you can play with confidence and alleviate discomfort associated with plantar fasciitis, enhancing your overall pickleball experience.
Frequently Asked Questions
What type of sneakers are best for pickleball?
The best sneakers for pickleball are typically court-specific shoes designed for indoor or outdoor court sports. They should provide good lateral support, cushioning, and traction. Look for brands like ASICS, Nike, or Adidas that offer pickleball or tennis-specific shoe models.
What kind of shoes should I wear if I have plantar fasciitis?
If you have plantar fasciitis, it's best to wear shoes with good arch support, cushioning in the heel and forefoot, and a supportive midsole. Orthopedic or specialized plantar fasciitis shoes are often recommended. Brands like Brooks, New Balance, and Saucony offer shoes suitable for individuals with plantar fasciitis.
Why does my heel hurt when I play pickleball?
Heel pain during pickleball can be caused by various factors, including inadequate footwear, improper foot mechanics, or overuse. Plantar fasciitis, a common condition characterized by heel pain, can also be a culprit. Wearing proper pickleball shoes with adequate support and addressing any underlying foot issues can help alleviate heel pain.
What shoes should you not wear with plantar fasciitis?
You should avoid shoes with minimal arch support, inadequate cushioning, or poor shock absorption. Flip-flops, high heels, and unsupportive flats are typically not recommended for those with plantar fasciitis.
Can I wear regular sneakers for pickleball?
While you can wear regular sneakers for pickleball, it's advisable to choose shoes specifically designed for court sports like pickleball or tennis. These shoes offer better lateral support, grip, and stability, which are essential for playing safely and effectively.
What should you not wear with plantar fasciitis?
Avoid wearing shoes with flat soles, inadequate arch support, or insufficient cushioning if you have plantar fasciitis. High heels and flip-flops should also be avoided, as they can exacerbate the condition.
Do shoes matter with plantar fasciitis?
Yes, shoes are crucial when dealing with plantar fasciitis. Supportive and cushioned footwear can help reduce strain on the plantar fascia and alleviate pain. Wearing appropriate shoes is an essential part of managing and preventing plantar fasciitis.
Is it better to wear flat shoes with plantar fasciitis?
No, it's generally not advisable to wear flat shoes with plantar fasciitis. Shoes with proper arch support and cushioning are more beneficial for individuals with this condition as they help reduce strain on the plantar fascia and provide comfort.
Can I still play pickleball with plantar fasciitis?
It is possible to play pickleball with plantar fasciitis, but it's essential to wear supportive shoes, consider orthotic inserts if recommended by a healthcare professional, and manage the condition with rest, stretches, and ice to avoid exacerbating the symptoms.
Why do I feel tired after playing pickleball?
Feeling tired after playing pickleball is normal and typically a result of the physical exertion involved in the game. Pickleball requires agility, quick movements, and constant changes in direction, which can be physically demanding.
Is Birkenstocks good for plantar fasciitis?
Birkenstock sandals may provide some relief for individuals with plantar fasciitis due to their contoured footbed and arch support. However, it's important to consult with a healthcare professional for personalized advice on footwear for plantar fasciitis.
Are wider shoes better for plantar fasciitis?
Wider shoes can be beneficial for individuals with plantar fasciitis, as they provide extra room and reduce pressure on the foot. However, the most crucial factor is proper arch support and cushioning, so choose wider shoes that also offer these features.
How do you heal plantar fasciitis fast?
Healing plantar fasciitis usually takes time and a combination of treatments. Some ways to speed up the healing process include resting your feet, using ice, stretching exercises, wearing supportive shoes, and possibly using orthotic inserts. Consult a healthcare professional for a personalized treatment plan.
What makes a shoe a pickleball shoe?
A pickleball shoe is designed for the specific needs of pickleball players. These shoes typically offer good lateral support, cushioning, traction, and stability for quick movements on the court. They may also have reinforced areas to withstand the demands of pickleball gameplay.
Can you walk in pickleball shoes?
Yes, you can walk in pickleball shoes, but they are primarily designed for court sports like pickleball or tennis. They may not be as comfortable for extended walking as dedicated walking or running shoes.
Are Asics good for pickleball?
Asics is a reputable brand known for producing quality athletic footwear. Many Asics tennis or court-specific shoes can be suitable for pickleball, as they offer the necessary support and durability for court sports. It's essential to choose a model that fits your specific needs and playing style.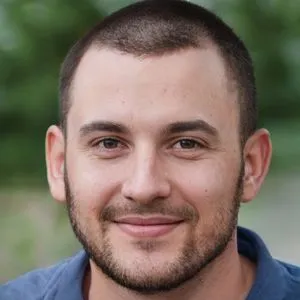 Michael Stevenson
Hi, my name is Michael Stevenson and I'm a passionate pickleball player. I've been playing the game for many years and I'm pretty highly skilled at it. Pickleball is one of my favorite topics so naturally, I love to write about it.
Whether it's tips for beginners, guides for experts, reviews of new paddles, or advanced playing techniques – if it relates to pickleball then I have something interesting to write about it. So if you're looking for entertaining and informative information on the topic of pickleball, look no further than my written works!