The Onix Z5 Graphite pickleball paddle is the most popular paddle on the market, a favorite among recreational and competitive players alike.
With its classic widebody shape and USAPA approval, it's no surprise the Onix Z5 Graphite is so popular on courts across the world. Unlike its graphite sibling, this pickleball paddle weighs about an ounce heavier, providing extra power on baseline shots.
With more texture on the face of this racquet, it gives consumers better control and finesse on their shots. Perfect for beginner to intermediate level players, everyone who tries on Onix Z5 Graphite will be sure to love it – and not just because it's one of the top-selling paddles on their roster!
Onix z5 Graphite Pickleball Paddle Review & Specification
| | |
| --- | --- |
| Paddle Length | 15.5″ |
| Face Width | 8.125″ |
| Handle Length | 5″ |
| Grip Size Circumference | 4.25″ |
| Weight | 7.5-8.2 oz |
| Face Material | Graphite |
| Core Material | Nomex |
| Paddle Shape | Wide Body |
| Handle Shape | Tennis |
| Edge Guard | Yes |
| Meets USAPA Requirements | Yes |
Onix z5 Graphite Pickleball Paddle Core
The core material used in the paddle is Nomex honeycomb, which is a stable, hard, and lightweight material often used as a fireproof material for firefighters helmets. In pickleball, it is used to provide power to the paddle and it does not disappoint.
The Onix Z5 Graphite offers a large sweet spot, allowing me to hit the ball with both power and confidence. This combination of power and control is what makes this paddle so popular among pickleball players.
Onix z5 Graphite Pickleball Paddle Surface
The face of the paddle is made of graphite, which is a lightweight material commonly used in sporting equipment. I appreciate that Onix has chosen to use graphite in their paddle, as it provides a lightweight option for players.
Many pickleball paddles on the market have faces made of composite materials or fiberglass, but the Onix Z5 stands out with its graphite surface.
The paddle also comes in a variety of colors including blue, green, orange, pink, purple, orange, white and yellow, so you can choose the one that best suits your style.
One of the things I love most about the Onix Z5 is its spin capabilities. The paddle excels in the spin category for both graphite and composite paddles due to the extra grit added to the surface.
I've noticed that I can easily generate a lot of spin on my shots, which helps me control the game more effectively.
I've also read a review that gave the slight edge to the Z5 composite for maximum spin because of the composite's already gritty nature. If maximum spin is a priority for you, I highly recommend the Onix Z5 composite or graphite options.
Onix z5 Graphite Pickleball Paddle Sweet Spot
I recommend this paddle due to its traditional "widebody" paddle face. The classic shape of the Z5 Graphite paddle has greatly improved my versatility on the court and the larger sweet spot has made miss-hits less likely.
The near-perfect dimensions and solid grip of the 5" tennis racquet handle provide great shot control and balance.
I feel confident in my shots and know that I have a reliable paddle in my hand. The Z5 graphite paddle is a great fit for players who want to improve their game or don't mind a loss of control.
Onix z5 Graphite Pickleball Paddle Handle
The handle of this paddle is a standout feature for me. It feels like a singular piece and is much more ergonomic than other paddles I've used in the past. The thinner design allows for a better shaped handle which makes it more comfortable to hold and play with.
Although it's considered a middle/heavier weight paddle, I haven't had any issues with the weight. However, I have noticed that some of my friends have complained about it being too heavy for them.
I think this paddle is a great choice for those with arm and wrist strength, but maybe not the best option for those who may struggle with a heavier weight.
What I Like About ONIX Z5 Graphite Pickleball Paddle
This paddle truly is a "whole package" as it offers power, discretion, speed, and maneuverability all in one. The larger sweet spot on the paddle has definitely helped improve my game, making it easier to hit those hard-to-reach shots.
One of the things I appreciate most about this paddle is the Nomex core with a graphite face. This combination provides superior control compared to other materials and I can definitely feel the difference in my shots.
The paddle also has classic widebody dimensions and a tennis handle, which I find comfortable and easy to grip. The medium weight of the paddle is perfect for me as it provides just the right balance of power and control.
It's no surprise that the Z5 Graphite is ONIX's most popular paddle. The balance of power, control, and overall performance is unbeatable and I would highly recommend it to any pickleball player looking for a high-quality paddle.
Reasons to Consider
What I Don't Like About ONIX Z5 Graphite Pickleball Paddle
The main issue I have found with the paddle is the amount of force and "pop" on the ball, making it difficult to control at times.
The paddle is also very loud due to the Nomex cores and lack of sound dampening or absorbing technology. This has been a problem for me as I often play in a neighborhood and have received complaints about the noise.
I can see how this might be an issue for other recreational players who play in similar settings.
In terms of design, I have found the paddle to lack a visually pleasing edge when compared to other pickleball paddle brands.
Additionally, I find the inclusion of the website address and phone number at the paddle's base to be unnecessary and detracts from the overall appearance of the paddle.
My Personal Opinion
I started out my pickleball journey with the ONIX Z5 Graphite paddle and it was a great choice for me as a beginner. I was initially drawn to the paddle for its ability to hit deep shots, but as I progressed in the game, I realized that it lacked control.
However, I still highly recommend it for beginners and power players as it is easily accessible at most sporting goods stores.
Experts in the game suggest that composite or graphite paddles are the best option at the start of your pickleball journey as they provide more maneuverability and freedom of movement.
The ONIX Z5 has a large sweet spot, thanks to its classic wideboy dimensions, which reduces the chances of a miss-hit. The Nomex honeycomb core of the paddle gives it power and "pop" for shot-making.
The graphite face of the paddle balances the paddle beautifully, making it an excellent choice for both beginners and experts.
The paddle is available in a wide range of colors, making it an appealing option for players who want a visually unique paddle. It provides lots of power, helps improve your game quickly and provides loads of playing comfort.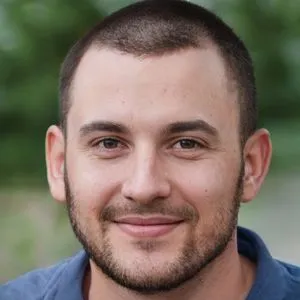 Michael Stevenson
Hi, my name is Michael Stevenson and I'm a passionate pickleball player. I've been playing the game for many years and I'm pretty highly skilled at it. Pickleball is one of my favorite topics so naturally, I love to write about it.
Whether it's tips for beginners, guides for experts, reviews of new paddles, or advanced playing techniques – if it relates to pickleball then I have something interesting to write about it. So if you're looking for entertaining and informative information on the topic of pickleball, look no further than my written works!