Are you a pickleball enthusiast with wide or extra wide feet? If so, you know the struggle of finding the perfect footwear for your game. Standard-width feet have it easier with a wide array of options that offer the ideal combination of fit, function, and style.
However, for those of us with broader feet, the journey to finding the right shoe can be challenging. In my article, I'll guide you through the process of selecting the best pickleball shoes tailored to your needs.
I'll emphasize the importance of prioritizing fit over style and share insights from the American Podiatric Medical Association regarding roomy toe boxes.
By following these guidelines, you can enhance your balance, prevent discomfort, and avoid common foot conditions like bunions, corns, and blisters.
Additionally, I'll provide tips on visiting specialty retailers and discovering brands that cater specifically to wide feet, ensuring that your pickleball game is not hindered by ill-fitting shoes. Get ready to step up your game with comfort and confidence.
List of Best Pickleball Shoes For Wide Feet
K-Swiss Supreme Shoe – Overall Best Pickleball Shoes For Wide Feet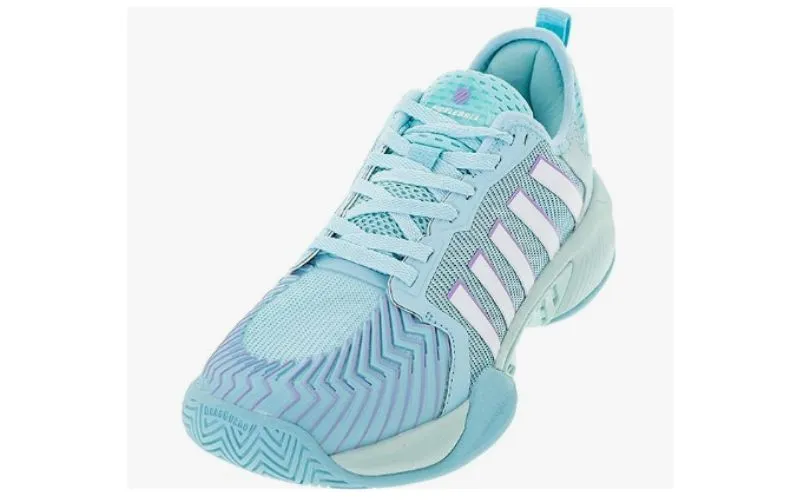 The K-Swiss Supreme Shoe has proven to be a revelation in this regard, standing out as the premier choice for players with a need for wide-width options.
Crafted with a commendable attention to detail, these shoes have been purposefully designed for individuals with wider feet, boasting a sufficiently wide toe box that circumvents the discomfort often experienced by players with broader foot anatomy.
The DURAWRAP FLEX UPPER, a marvel of engineering, marries durability and lightweight construction seamlessly, eliminating the customary break-in period associated with high-performance athletic footwear.
This innovation, coupled with the incorporation of a 180-degree thermal plastic Plantar Support Chassis, provides unparalleled mid-foot stability, a crucial factor in maintaining an optimal stance and facilitating agile movements on the court.
Furthermore, the AOSTA 7.0 outsole is a testament to the shoe's commitment to longevity, offering exceptional heel-to-toe durability.
The strategic placement of DRAGGUARD 7.0 in high-wear areas further extends the lifespan, making these shoes a wise investment for the avid pickleball enthusiast.
The incorporation of a toe spacer is a thoughtful touch, accommodating potential foot irregularities or arthritis, underscoring the brand's dedication to player well-being.
It's worth noting that while the K-Swiss Supreme Shoe is recommended for narrow feet, this model excels in accommodating wide toe/ball of the foot, making it a standout choice for players with diverse foot types.
Some may find that a secure fit necessitates tight tying, but this is a minor trade-off for the enhanced stability and performance these shoes provide.
The wider toe bed is a boon, preventing numbness during extended play sessions—a concern that is particularly relevant to players who compete in tournaments or engage in prolonged matches.
The shoes' initial stiffness may give pause upon first wear, but this is swiftly supplanted by a tailored fit as they mold to the foot, delivering comfort and stability in equal measure.
High ankle support bolsters confidence in stance and movements, while arch and side stability mitigate slippage during rapid directional changes—a crucial factor in the fast-paced dynamics of pickleball.
In the realm of sizing, leaning towards a half-size larger than usual proves to be a prudent choice, ensuring a precise fit that caters to the specific demands of the sport.
These shoes also excel in breathability, rendering them ideal for sunny climates. The stylish design is an added bonus, affirming that performance need not come at the expense of aesthetics.
In conclusion, the K-Swiss Supreme Shoe surpasses expectations, proving itself as the quintessential choice for pickleball players with a wide foot.
Its meticulous design, tailored for players with wider feet, along with the incorporation of cutting-edge technologies, sets it apart from competitors.
The benefits of enhanced stability, durability, and comfort are immediately noticeable, making this investment well worth it for any serious pickleball player.
Asics Gel-Resolution 8 – Best Wide Toe Box Pickleball Shoes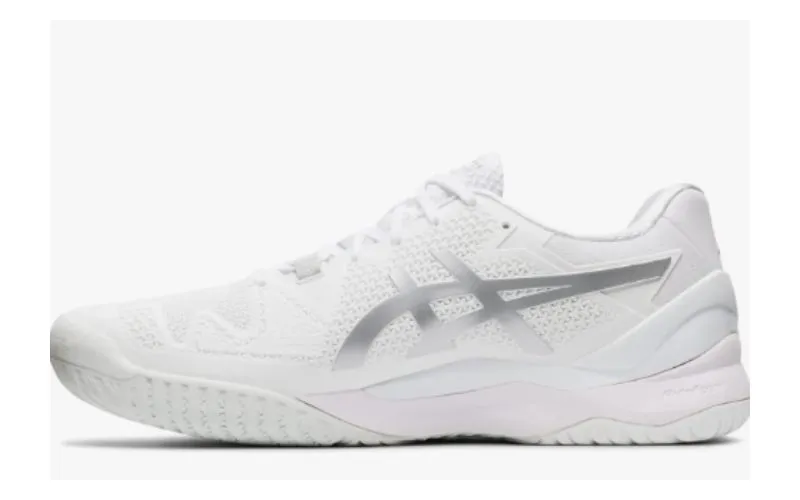 The Gel-Resolution 8, renowned for its exceptional support and comfort during play, has a unique selling point that sets it apart from the competition – it's specifically designed for players with wider feet, and it delivers on that promise. For those among us with a wider foot profile, these shoes are a godsend.
One of the standout features of the Gel-Resolution 8 is its Flexion Fit Upper, which provides a snug yet supportive fit. This feature is particularly beneficial for wide-footed Pickleball players like myself.
The snug fit ensures that my feet are well-supported during quick lateral movements, a crucial aspect of Pickleball gameplay.
Furthermore, the PGuard Toe Protector is a game-changer, enhancing the durability of the toe area. For those of us who tend to drag our toes while playing, this innovation significantly increases the lifespan of the shoes, saving us from frequent replacements.
In the realm of stability, DYNAWRAP Technology steps up to the plate, keeping the midfoot centered on the shoe's platform.
This means that even during intense rallies and sudden direction changes, my feet stay firmly in place, reducing the risk of injury.
Durability is a key concern for any serious athlete, and ASICS has addressed this by strategically placing the AHAR Plus Outsole.
This outsole outperforms standard ASICS High Abrasion Rubber by a whopping 50%, ensuring that my investment in these shoes pays off in the long run.
For wide-footed players, finding shoes that not only fit comfortably but also perform exceptionally can be a challenge.
The Gel-Resolution 8 offers wide-width options, which cater to the needs of those with broader feet. This aspect alone makes it a top pick for me and many of my wide-footed fellow players.
Now, let's talk about the evolution of the Gel-Resolution series. The Gel-Resolution 8 has undergone some design changes compared to its earlier versions. Some customers have noted a slight decrease in midsole cushioning or a firmer ride, possibly done for stability reasons.
While this may be a concern for some, I found that the increased stability more than compensates for it, especially in the fast-paced world of Pickleball.
One aspect of the Gel-Resolution 8 that has garnered mixed reviews is the strap that goes over the top of the foot and through the lacing system. Some players find it uncomfortable, particularly those with a high instep.
However, there's a workaround – simply removing the strap can restore the shoe's comfort and wearability. After doing so, the Gel-Resolution 8s perform remarkably well, matching the performance of previous generations.
In summary, the ASICS Gel-Resolution 8 Pickleball shoes are a game-changer for wide-footed players like me. They offer a combination of support, stability, and durability that's hard to beat in the world of Pickleball footwear.
While they may not generate the same buzz as their predecessors, these shoes have proven their worth on the court, showing little wear and tear even after intense matches.
If you have wide feet and are looking for the best Pickleball shoes that cater to your specific needs, the Gel-Resolution 8 should be at the top of your list.
K-Swiss Express Light – Women Pickleball Shoes for Wide Feet
One of the standout features is the shoe's tailored fit for individuals with wider feet. This addresses a longstanding issue among wide-footed pickleball enthusiasts.
The incorporation of the AOSTA 7.0 rubber compound in the sole ensures exceptional durability, an absolute must in a sport known for its quick lateral movements and intense court action.
The addition of DURAWRAP provides an extra layer of protection against toe-dragging, a common occurrence in competitive pickleball.
The 180 PSC PLANTAR technology enhances mid-foot stability, which is crucial for maintaining a solid foundation during rapid directional shifts.
The ORTHOLITE SOCK LINER is a game-changer in managing moisture, ensuring a cooler and drier experience during extended play sessions.
This feature contributes significantly to overall court safety, especially considering the potential for injuries in this fast-paced sport.
Furthermore, the DRAGGUARD reinforcement at the toe and heel offers increased abrasion resistance, a welcome addition for players who put their shoes through rigorous use. It's clear that K-Swiss has considered the wear and tear pickleball can inflict on footwear.
While these shoes excel in durability and support, they do sacrifice some breathability due to the supportive materials. Regular airing and deodorizing are necessary to maintain a comfortable playing experience.
However, in terms of sturdiness, these shoes have stood the test of time. After several months of intense play, they've maintained their integrity remarkably well.
In terms of performance, the K-Swiss Express Light Pickleball shoes handle quick movements and lunges with precision and ease. There is a touch of rigidity initially, but the wearer adapts quickly, and the shoes become an extension of your game.
I've found them to strike a balance between the characteristics of tennis and volleyball shoes, making them ideal for the unique demands of pickleball.
However, it's worth noting that while the shoes are labeled as wide, some individuals may still experience slight discomfort. In such cases, considering the addition of new insoles is a viable solution.
In conclusion, the K-Swiss Express Light Pickleball shoes are a top-tier option for wide-footed pickleball players. Their superior fit, durability, and performance make them a standout choice in the market.
While they may come at a relatively higher cost in the pickleball gear category, the investment is justified by their long-lasting quality. For those with wider feet seeking optimal support and performance on the court, these shoes come highly recommended.
New Balance 608 V5 – Best Men Pickleball Shoes for Wide Feet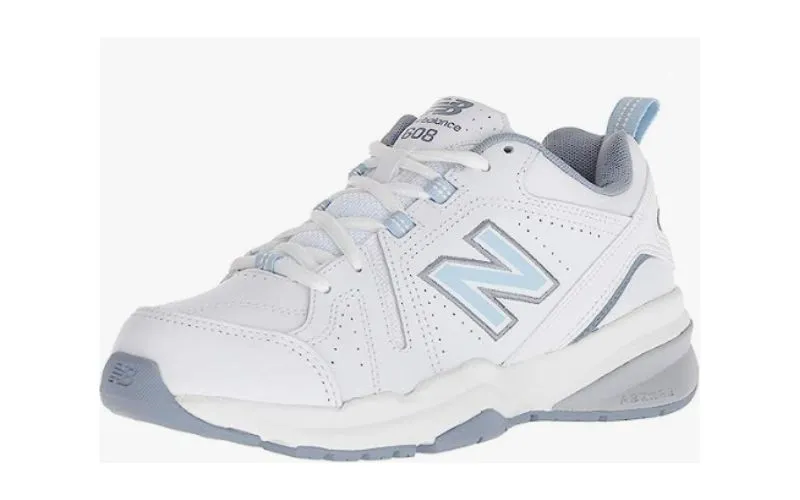 Crafted from 100% imported leather, these shoes boast a rubber sole that doesn't just promise durability, but delivers it on the unforgiving courts.
The PU foam insert provides a level of comfort and support that stands the test of extended play sessions. This is further complemented by the lightweight injection-molded EVA foam midsoles that offer cushioning where it counts.
One notable edge of the 608 V5s lies in the Phantom Liner interior. Minimizing seaming, it effectively mitigates irritation, ensuring that players can focus on their game without the distraction of discomfort.
For those requiring midfoot structure and support, the internal midsole shank steps up to the plate, offering an added layer of stability that can make all the difference in those high-stakes matches.
The NB Soft + Supportive Comfort Insert ensures that even on the longest days on the court, fatigue doesn't prematurely take its toll.
While the insoles provided are serviceable, they lean towards the thinner side, especially in the heels. To fine-tune my experience, I opted to replace them with Dr. Scholl's, a simple yet impactful swap that elevated the overall comfort.
Admittedly, concerns arise when contemplating the cost of New Balance replacement insoles, but for the discerning player, it's an investment that pays dividends in sustained performance.
The shoes excel in wet conditions, a key consideration for the serious player. However, it's worth noting that daily exposure to moisture can lead to material separation from the sole over time. A minor inconvenience, but one that shouldn't overshadow the benefits.
Fit-wise, the 608 V5s lived up to expectations, with one minor hiccup—uneven shoelace lengths necessitated a switch. This is a minor quibble, but it's worth noting for those who demand precision in every aspect of their game.
Beyond the confines of the court, these shoes proved comfortable for extended walks, a versatility that sets them apart from their peers. It's this adaptability that has solidified my allegiance to New Balance.
For those with wider feet, finding athletic shoes that tick all the boxes can be an exercise in frustration.
The 608 V5s may initially feel snug, akin to a vise on the foot, but there's a silver lining. Over time, they do exhibit a tendency to stretch, providing that sought-after customized fit.
In an industry often plagued by lack of standardization, New Balance has stepped up to deliver a shoe that addresses the specific needs of wider-footed players.
The result is a product that combines durability and sturdiness with a level of comfort that transcends the game.
Sure, there are minor quibbles—some may find the toe-box slightly narrower than anticipated, potentially presenting a challenge for those partial to thick socks. Yet, for the player who opts for a thinner sock, this concern quickly dissipates.
In the grand scheme, the New Balance 608 V5 Pickleball shoes offer an unbeatable package. Factor in the price point, and it's a clear winner.
While some competitors may boast more plushness inside, or greater arch support, they often falter in durability and robustness—a trade-off that few serious players can afford.
In retrospect, the only regret is not snapping these up at a discounted price. The slight discrepancies in the black pair's leather quality are overshadowed by the overall satisfaction derived from these shoes.
A quick removal of the inside arch pad ensures optimal comfort, confirming that this footwear is designed for those who take their game seriously.
In summation, for those of us with wider feet navigating the world of pickleball, the New Balance 608 V5 is more than a shoe—it's a game-changer.
The culmination of my extensive experience on the courts and rigorous research, these shoes have earned their place as the go-to choice for players who demand excellence.
New Balance 623 V3 – Wide Width Pickleball Shoes
Crafted from 100% leather, these shoes exude durability and reliability, a hallmark of the New Balance brand I've trusted for over 15 years.
The transition from the now-discontinued 621 model to the 623 has been seamless, with the latter exhibiting similarities in form and function.
One of the standout features for wide-footed players is the proper fit these shoes offer. The well-formed heel pocket and ample laces allow for a secure and comfortable fit, ensuring stability during lateral movements—a crucial aspect in the dynamic game of Pickleball.
The 10 mm drop provides a comfortable base, accommodating the nuances of various court activities.
The inclusion of an EVA foam footbed, coupled with the IMEVA foam midsole, strikes a harmonious balance between firmness and flexibility, offering both support and maneuverability on the court.
However, it's worth noting that these sneakers may require additional insoles with arch support for players needing extra reinforcement in that area.
While this could be seen as a minor drawback, it's a common consideration for players with specific foot needs.
In terms of build, the all-leather upper, though robust, does limit ventilation, making these shoes more suitable for cooler seasons.
The thin lining, except around the foot opening, provides a snug yet comfortable feel around the ankle, enhancing overall fit and wearability.
While the New Balance 623 V3 excels in comfort and performance, it's important to acknowledge the industry-wide issue of sole glue weakening and imitation leather wear.
This is a point of concern, particularly for players seeking long-term investment in their footwear.
Despite these minor concerns, New Balance remains a reliable choice for fit and quality, even though discontinuations of favored styles can be frustrating.
With a price range of $65-$75 (and potentially discounted to $57), these shoes offer excellent value, as I maintain that Pickleball shoes need not exceed the $100 mark.
In conclusion, the New Balance 623 V3 Pickleball shoes stand out as the best option for individuals with wider feet, benefiting a significant portion of the wide-footed Pickleball community.
Their combination of proper fit, durability, and support make them an invaluable asset on the court, and I wholeheartedly recommend them to fellow players seeking top-tier performance in their footwear.
FitVille V3 – Extra Wide Pickleball Shoes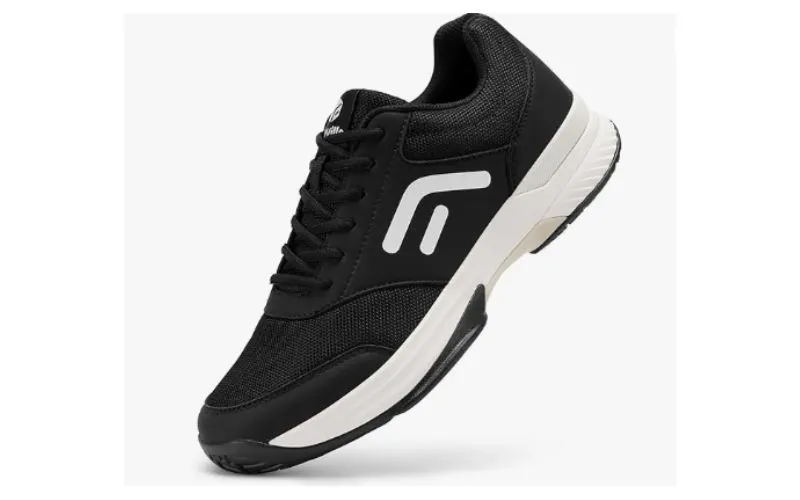 What sets these shoes apart from the competition is their thoughtful design and innovative features. Let me break it down for you, drawing from my own extensive experience on the court.
First and foremost, FitVille has recognized the importance of a proper fit for individuals with wider feet. These shoes boast four available width options, ensuring that players of various foot shapes find their perfect match.
This attention to detail is a game-changer for wide-footed athletes like me, as it minimizes discomfort and maximizes performance.
One of the standout features of these shoes is their high rebound technology. As a pickleball player, I demand a cushioned and responsive feel, and these shoes deliver just that.
The soft sponge insole provides not only pressure relief but also long-term exercise support, making them ideal for extended matches and intense rallies.
Additionally, FitVille has incorporated torsion TPU rubber for shock absorption and improved agility on court sports like pickleball. This innovation has significantly enhanced my maneuverability and stability during fast-paced games, giving me an edge over my opponents.
Arch support is crucial for players with wider feet, especially if you're dealing with foot pain conditions like plantar fasciitis, flat feet, bunions, or hammertoes. FitVille has you covered with excellent arch support that contributes to overall comfort.
It's reassuring to know that these shoes address not just fit but also the well-being of your feet during those intense matches.
The spacious toe box is another winning feature. It allows your toes to spread naturally, reducing the likelihood of discomfort and blisters. In my experience, this enhances comfort during those long tournaments where every point counts.
FitVille has also prioritized weight without compromising quality. These shoes weigh in at a mere 720g per pair (based on US size 9), thanks to their mesh knit and leather upper. This lightweight design contributes to agility and less fatigue during extended matches.
However, it's important to note that while these shoes excel in many areas, some users have reported a lack of lateral support during sharp movements.
If you're a player who relies heavily on rapid direction changes, you might need to consider additional support or inserts. Additionally, some users found the arch support to be insufficient, but this can often be addressed with aftermarket insoles.
One intriguing aspect of these shoes is their versatility. Beyond the pickleball court, they are well-suited for activities like walking, gym workouts, and more.
The non-slip and cushioned soles make them comfortable for those who need to stand for extended periods, such as bank tellers.
FitVille shoes are gaining recognition in the pickleball community not just for their comfortable fit but also for their quality construction.
The mesh uppers are breathable and comfortable, eliminating the dreaded toe box discomfort that can plague players with wider feet. The sturdy backs and padded tongues ensure that these shoes hold up to the rigors of competitive play.
The durability of the shoelaces is another noteworthy detail. They stay tied securely, preventing disruptions during crucial moments of play.
Additionally, the thick soles provide excellent grip and cushioning, absorbing the impact of intense rallies.
As for arch support, I can personally vouch for its excellence. It greatly contributes to overall comfort, especially during those grueling matches that seem to go on forever.
One minor drawback that some users have noted is a slight tightness on the instep when the laces are tightened. However, this can typically be easily resolved by adjusting the lacing tension to your preference.
In conclusion, as a seasoned pickleball player with wider feet, I can confidently say that FitVille Pickleball Shoes are the best choice on the market.
Their commitment to proper fit for individuals with wider feet, coupled with innovative features like high rebound technology, arch support, and shock absorption, sets them apart from the competition. These shoes have evolved from previous models to provide unparalleled comfort and performance.
New Balance V2 – Unparalleled Comfort, Support, and Stability for Wider Feet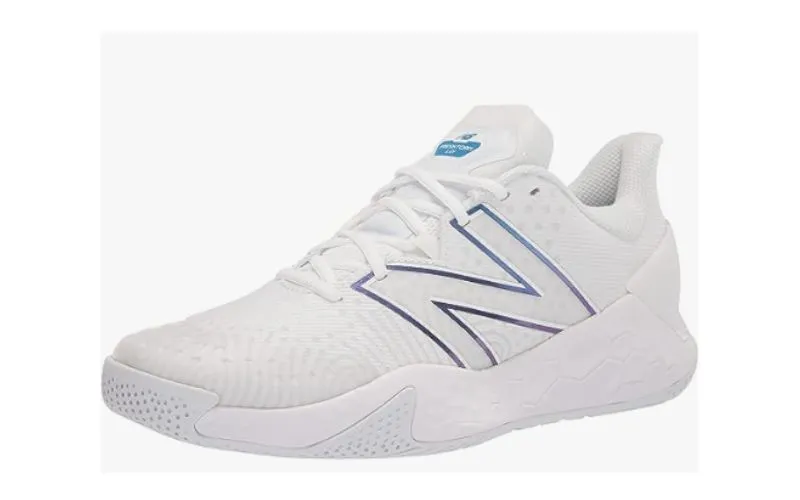 First and foremost, these shoes are a godsend for individuals with wider feet, a blessing often overlooked in the world of Pickleball footwear.
Among wide-footed pickleball players, the New Balance V2 stands tall as the quintessential choice, offering a level of comfort and support that's truly unparalleled.
One of the standout features of these shoes is the incorporation of PROBANK technology, a game-changer in terms of lateral stability.
This innovation not only enhances my confidence during quick lateral movements but also contributes significantly to injury prevention, a crucial factor when you're as involved in the game as I am.
The REVlite midsole deserves a mention for the cushioning and comfort it provides. It's like walking on a cloud while maintaining that essential responsiveness needed for swift court transitions.
Moreover, the Ndurance outsole ensures superior traction and longevity, which are vital attributes for those of us who demand peak performance day in and day out.
What truly sets these shoes apart from the competition is the full-length Ndurance outsole, offering exceptional durability. I've put these shoes through their paces in numerous tournaments and intense matches, and they have never once let me down.
The toe drag tip is a testament to the shoe's longevity, reinforcing high-wear areas and further extending their lifespan.
While I can't deny that these shoes receive compliments for their cool design and color combinations, there have been some concerns raised by fellow players.
Some found them to run narrow or feel stiff out of the box. Sizing up to compensate for this can result in heel slippage and discomfort during intense rallies.
Conversely, sizing down to a normal size may still cause heel slippage and toe jamming, leaving players in a bit of a conundrum.
However, my personal experience with these shoes, although initially discomforting due to a reinforced plastic ridge around the ankle, eventually blossomed into sheer comfort.
I gradually adjusted to the shoes' feel by wearing them around the house, and they evolved into the perfect companion on the court, providing excellent cushioning for my joints.
One notable aspect of these shoes is their genuine rebound cushioning effect, primarily in the heel area. This feature has been particularly beneficial during high-intensity matches, although I did experience a minor blister during the break-in period. To mitigate this, I would suggest considering a half size smaller for a snug, blister-free experience.
In terms of durability, the outsole of these shoes is on par with high-performance tennis shoes, making them more than adequate for Pickleball.
On-court performance is exceptional, with quick stops and seamless lateral movements that are essential for dominating the game.
Comparatively, the Nike Court Air Zoom Vapor is criticized for its tightness, clunkiness, and poor lacing, while the ASICS Solution Speed FF2, although lighter, has issues with the tongue and toe box.
In my personal journey, I made the switch from ASICS Revolution to these New Balance V2 Pickleball shoes, and I can confidently say it was a switch well worth making.
These shoes offer the perfect blend of comfort, durability, and performance, making them the best pickleball shoes for wide feet and a top choice for any player looking to dominate the court.
Adidas LAF78 – Exceptional Traction and Affordable Pricing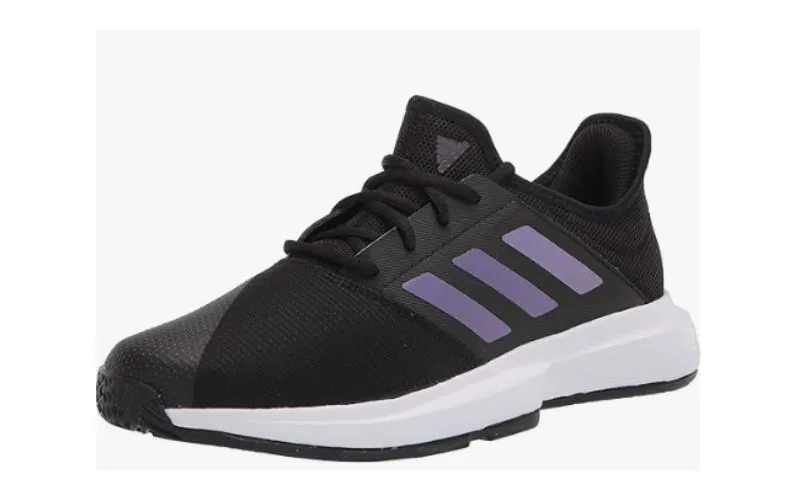 Adidas, a brand steeped in sports heritage and committed to innovation, has crafted a shoe that exudes quality and performance. The rubber sole, a non-negotiable in professional-grade footwear, delivers impeccable traction on the court.
This feature, indispensable for swift lateral movements and sudden sprints, ensures a competitive edge in every match.
One notable feature that sets the LAF78 apart is its affordability without compromising on critical attributes. However, it's imperative to address the absence of removable insoles, a potential inconvenience for those with specific orthotic needs.
This, however, can be mitigated through aftermarket solutions, though not an ideal circumstance for discerning players.
Durability, a paramount consideration for any athlete, is an area of minor contention. While some users applaud the longevity of these shoes, others express reservations, particularly for those engaging in frequent play. This discrepancy may stem from varying styles of play or court surfaces encountered.
Yet, for wide-footed athletes, the LAF78 offers an exceptional fit, coupling comfort with snugness. The attached tongue, a subtle yet invaluable addition, further contributes to this superior fit. It's a testament to Adidas' commitment to user-centric design.
The standout feature, however, lies in the exceptional grip on the tennis court. This attribute is non-negotiable for a Pickleball player, where split-second changes in direction can be game-changers. These shoes inspire confidence in every step and pivot.
In the realm of style, the LAF78 doesn't disappoint. Its versatile design effortlessly complements various outfits, ensuring you look as good as you play. This blend of form and function is a hallmark of Adidas' attention to detail.
In conclusion, the Adidas LAF78 stands as a practical and stylish choice for tennis enthusiasts, particularly those with wider feet. Despite a minor concern regarding insole replacement, these shoes offer unparalleled grip, comfort, and durability.
Their affordability is the cherry on top, making them a compelling option in a market rife with pricier alternatives. As a seasoned player, these shoes have undoubtedly earned their spot at the top of my gear roster.
New Balance V3 – Wide Fit for Court Performance and Knee Pain Reliefs
One standout feature is the imported rubber sole, a testament to durability. In the heat of intense rallies and swift lateral movements, the outsole held its ground admirably, exhibiting minimal signs of wear even after prolonged use.
This bodes well for those engaged in frequent and competitive play, as the last thing one needs is to worry about premature sole degradation.
The REVlite midsole, a hallmark of New Balance engineering, delivers on its promise of lightweight cushioning. From the first step, a discernible sense of comfort envelops the foot, a crucial attribute for protracted matches and tournaments. The juxtaposition of support and comfort is finely balanced, ensuring that the player can rely on these shoes for endurance and agility.
The synthetic and mesh upper, coupled with the no-sew construction, contributes to a sleek and snug fit. This translates to a more responsive feel during quick directional changes, a vital aspect of any court sport.
The addition of TPU overlay further fortifies the shoe, providing commendable support without encumbering the overall design. This is a critical factor for players like myself who frequently engage in high-intensity matches.
One feature that sets the V3 apart is the incorporation of NDure upper technology. This infusion of durability ensures that the shoes withstand the rigors of competitive play, offering a lifespan that outstrips many of its counterparts.
It's this attention to longevity that adds a distinct edge to the V3 in a fiercely competitive market.
For those with wider feet, the V3 emerges as a revelation. The availability of a wide (D) size option ensures that support is provided without the constriction that often accompanies standard sizes.
The roomy toe box is a godsend for individuals grappling with foot issues, allowing for natural splay without compromising on stability.
In fact, the V3 outshines other B-width court shoes in accommodating width, a testament to New Balance's commitment to inclusivity.
However, it's worth noting that New Balance shoes tend to run small in length, necessitating an order of a half-size or full size larger. This is a quirk that some may find inconvenient, but the payoff is a shoe that offers ample room in the toe area.
Once properly sized, the immediate comfort is palpable, negating the need for a customary break-in period.
In terms of aesthetics, the V3 exhibits a design flair that surpasses its predecessors. The sleek lines and modern contours lend an air of sophistication that's often lacking in other models. This isn't just a shoe for performance; it's a statement of style on the court.
While some users have reported minor discomfort in the heel area, this can be mitigated through strategic lacing adjustments.
Additionally, the slightly stiff feel of the shoe may require a brief breaking-in period for optimal comfort. More flexibility in this regard would undoubtedly elevate the overall experience.
One notable advantage of the V3 is its efficacy in reducing knee pain during play. The support and cushioning elements work in tandem to alleviate stress on this vulnerable joint, a boon for players seeking longevity in their game.
In the realm of hard court sports, the V3 truly shines. The combination of lightweight design and robust support renders it an ideal choice for the unforgiving demands of surfaces like concrete or asphalt. However, a touch more flexibility would enhance the overall comfort, particularly for players engaged in extended matches.
To conclude, the New Balance V3 Pickleball shoes represent a commendable evolution in court footwear. Their emphasis on durability, wide-foot accommodation, and aesthetic appeal sets them apart in a crowded market.
For players like myself who participate in flex leagues and tournaments, these shoes offer a winning edge. While there are minor areas for improvement, the V3's overall performance and comfort make them my unequivocal choice for pickleball and court sports.
How To Choose Pickleball Shoes For Wide Feet? Important Tips
Selecting the perfect pair of pickleball shoes for wide feet is essential to ensure comfort, support, and peak performance on the court. Playing pickleball with shoes that are too tight or constricting can lead to discomfort and hinder your game.
In this guide, we will walk you through the essential steps to help you make the right choice when it comes to pickleball footwear for wide feet.
Measure Your Foot Width
The first step in finding the ideal pickleball shoes for wide feet is to measure your foot width accurately. Focus on the widest part of your foot, which is typically around the ball of your foot. This measurement will determine whether you need wide or extra wide shoes.
Leave Adequate Toe Room
Properly fitted shoes should leave at least half an inch of space between your longest toe (usually the big toe) and the tip of the shoe. This extra room ensures that your toes have sufficient space to move comfortably.
Consider Your Foot Shape
Your foot shape plays a crucial role in selecting the right shoes. If you have square-shaped feet, wide forefeet, or bunions, you'll need shoes with a spacious toe box to accommodate these features and prevent discomfort.
Factor in Your Playing Style
Your playing style on the pickleball court also influences your shoe choice. Aggressive players who make quick movements and sudden stops will benefit from shoes that offer ample shock absorption and durability.
Weight of the Shoes
Pickleball shoes come in various weights. Lighter shoes, typically weighing around 10-13 ounces, provide quickness and maneuverability, while cushioned shoes may weigh slightly more but offer enhanced comfort during longer matches.
Insole Type
Consider the type of insole in the shoes. Some shoes have removable insoles, which allow you to use custom orthotics if needed. Others come with fixed insoles that provide targeted support.
Uppers Impact Comfort
The material used for the uppers of the shoe can significantly impact comfort. Smooth leather and mesh uppers reduce irritation, while knit uppers are more accommodating for wider feet.
Midsole Cushioning Options
Midsole cushioning is essential for shock absorption and comfort. Look for shoes with midsoles made of materials like EVA and GEL foam for shock absorption or polyurethane for bounce.
Traction with Outsoles
Durable rubber outsoles with herringbone or waffle tread patterns are ideal for providing traction on indoor pickleball courts, ensuring you can move confidently without slipping.
Try Them On and Break Them In
Once you've identified potential pickleball shoe options, it's crucial to try them on. Visit a store that specializes in athletic footwear and try on shoes at the end of the day when your feet tend to be most swollen. Wear the socks you plan to play in to gauge the fit accurately.
Walk and Move Around
Walk and move around in the shoes to ensure that your toes don't hit the front of the shoe during motion. Different brands may have variations in fit profiles, so don't assume the same size will fit across all brands.
Consider Shoe Stretching
If you find a shoe that's slightly tight in the toe box but otherwise fits well, consider using a shoe stretching service to make them more comfortable.
Closure Types
Look for shoes with lace-up or Velcro closures. These allow you to adjust the upper snugness as needed to accommodate your wide feet comfortably.
Break Them In Gradually
Before hitting the court for a full pickleball match, it's a good idea to break in your shoes gradually by wearing them at home. This helps ensure they conform to your feet for maximum comfort during play.
Prioritize Comfort and Fit
Finally, prioritize comfort and the right fit over style when selecting pickleball shoes for wide feet. Functionality is key to improving your game, so ensure your shoes are designed to support your feet and playing style.
Final Words
We've explored a range of options, each offering unique features to cater to the specific needs of wide-footed players.
The K-Swiss Supreme Shoe, with its 180-degree Plantar Support Chassis and exceptional heel-to-toe durability, ensures mid-foot stability and lasting performance on the court.
ASICS Gel-Resolution 8 stands out with its AHAR Plus Outsole, wide-width options, and increased stability, addressing the concerns of wide-footed athletes.
Lastly, the K-Swiss Express Light provides a tailored fit for wide feet, combining exceptional durability with DURAWRAP protection for those intense moments on the court.
These top-notch choices exemplify the importance of selecting the right footwear, offering comfort, support, and durability for players with wide feet, ultimately enhancing their pickleball experience.
So, whether you're aiming for mid-foot stability, impressive durability, or a tailored fit, these options have you covered, ensuring you can focus on what matters most: the game.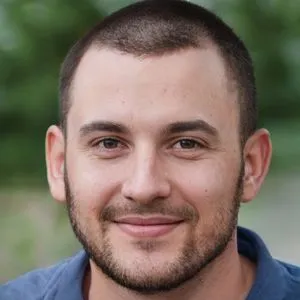 Michael Stevenson
Hi, my name is Michael Stevenson and I'm a passionate pickleball player. I've been playing the game for many years and I'm pretty highly skilled at it. Pickleball is one of my favorite topics so naturally, I love to write about it.
Whether it's tips for beginners, guides for experts, reviews of new paddles, or advanced playing techniques – if it relates to pickleball then I have something interesting to write about it. So if you're looking for entertaining and informative information on the topic of pickleball, look no further than my written works!